Why Choose Connemara Ponies?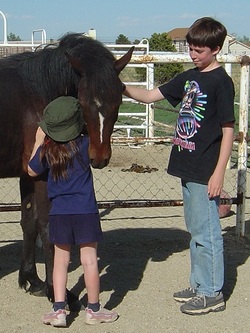 Our family's breeds of choice used to be Quarter Horses, Arabians and QH/Arab crosses. After so many years, why did we change from these excellent breeds to Connemaras?

Connemaras exemplify the best of what we value in our equines: heart, mind, strength, stamina, intelligence, personality, athletic ability, courage and sane heads. Despite their size, the typical Connemara is smooth moving like horses, not choppy like typical ponies. Connemaras also are NOT just for children. For our family, Connemaras give us everything we want -- personality, athletic ability, FUN -- in one, perfect-sized package.

Just look at the national standings in recognized equine sports and you will find Connemaras -- both purebreds and part-breds -- well represented among the winners in dressage, eventing, hunter jumper and combined driving, teamed with both adults and children/youth. No wonder the US breed slogan is "Connemaras Do It All!"

What do Connemaras typically pass on in part-bred crosses? BONE, large clean joints, agility, a smart and sane pony mind. As in ALL breeds, there are exceptions, so be a discerning buyer and breeder.

​". . . Connemaras are so undervalued. They're hardy, agile, sensitive, sensible, sane and built to withstand work. . . Great strong body, good legs and a super brain — the perfect little package!" Jessica Jo (JJ) Tate, Jan 6, 2016, Sidelines Magazine

​"The Connemara Pony/TB cross has long proved to be a wonderful mix. . . Ponies are different genetically and navicular, tendonitis and warts are less prevalent. A good dollop of pony blood has much to offer sport horse breeding. They live longer, are generally sounder, have more pound per pound dynamic strength, and in my opinion, are more intelligent overall." William Micklem from his article "Does Size Matter?" in The Irish Field, March 31, 2017

Now that we have Connemara Ponies, I wonder if our Irish ancestors had them as well: the Plunkett family from County Meath; the McManaway/McMinimy family from County Donegal; and the Burgess, Macklin and Wilson families from County Fermanagh, near Enniskillen, in Northern Ireland.


Brief History of the Connemara Pony

Native to Ireland, the hardy Connemara Pony started life as a true all-arounder out of pure necessity.

Before the days of tractors, most Irish farm families owned one good Connemara mare. Her jobs included hauling rocks out of the fields, carrying kelp from the sea to the fields, taking the farmer to town, and carting the family to church on Sunday. This faithful mare also produced one good foal a year that would be sold for extra income. The stallions often were used for racing, as well. These hardy ponies survived by forging for themselves on the wild, rocky landscape.

It was a hard life for people and ponies, alike. Only those ponies that could physically and emotionally do the work were bred on; the rest were culled from the breeding program. No wonder Connemara owners of yesterday and today highly value these smart, strong, solid, hardy ponies with hearts of gold. For more history of the Connemara Pony, read the books by Pat Lyne, including "Out of the Mist."


---
The Connemara Breed Standard in the United States
Type and Conformation -- Connemaras in North America range from 13 to over 15 hands. Their colors are gray, bay, brown, and dun, with some roans, an occasional black, chestnut, or palomino. Piebalds and skewbalds are not acceptable for registration. Connemaras are the product of their original environment, the rugged mountain coast of West Ireland. Sure-footed, hardy and agile, they possess powers of great stamina, staying power and adaptability. They are renowned for their versatility and their gentle, tractable, sensible and willing dispositions.

Temperament -- Mannerly and manageable, kind, responsive, possessing good sense and basic intelligence.

Type -- Rugged and sturdy; body compact and deep through the heart; with well sprung rib cage and broad chest.

Action -- Straight and true both front and rear with free movement in the shoulders. Connemaras should move underneath themselves and should be sure-footed, athletic, and clever, covering a lot of ground.


Head

-- Kind eye, head well shaped and balanced in proportion to the rest of the body, neck of good length and definition, meeting the shoulder smoothly.

Shoulders

-- Laid-back with good slope.

Back

-- Strong and muscular; some length of back is normal in Connemaras, especially mares.

Hindquarters

-- Well rounded and deep with good length from the point of the hip through the haunch; should balance the shoulders.

Bone

-- Clean, hard, flat, measuring 7- 8 inches below the knee for ponies, more for horses; forearms and gaskins long and muscular, cannons short and very dense.

Joints

-- Large and well defined.

Feet

-- Hard, strong.

To learn more about Connemaras in the United States, visit the

American Connemara Pony Society

.
"The man of integrity walks securely, but he who takes crooked paths will be found out." Proverbs 10:9