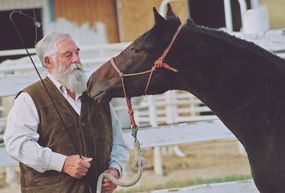 1923 - 2009
In Memory of Herbert Imping
Herbert was a respected Connemara breeder,
expert whip, avid sportsman, world traveler and
our dear friend. Herbert's homebred stallion, Power
Boy, is *Smaragaid Cliff's maternal grandfather.
The following is the sidebar of an article I
wrote for the American Connemara Magazine
after Herbert's visit in October 2004.

---
Meet Herbert Imping

by Karen Laden
Kingswell Connemaras

Herbert Imping's resume reads like a Connemara Who's Who in Germany.

Pat Lyne wrote about Imping in her book "Out of the Mist," noting his contributions to the Connemara Pony in Germany. Imping is a founding member of Connemarapony Vereinigung e.V., serving as its president
since 1998. Prior to 1996, he was a long-time member of the Connemara-IG, also serving several years as its president.

The real beginning of Imping's Bigge stud was in the mid 1970s when he bought Ganty Mint (Carna Bobby x Silver Mint) from Irishman Joe Macnamara. Ganty Mint and her daughter, Calla Mint by Calla Boy, were
its foundation.

Over the years, Imping stood the stallions Golden Rock (Golden Dan x Moy Orphan), Paddy of Caherlistrane (Carna Dun x Lough Hackett), Brimstone van Graaf Janshof (Sticky x Snowy Winter) and Flashing Brendan (Carna Gold x Comara April's Challenge). These stallions were used by outside mares in addition to Imping's own mares, which produced 46 foals.


Colorado Driving Society President Mary Woolverton and Herbert discuss one of their passions: driving.

"As water reflects a face, so a man's heart reflects the man." Proverbs 27:19