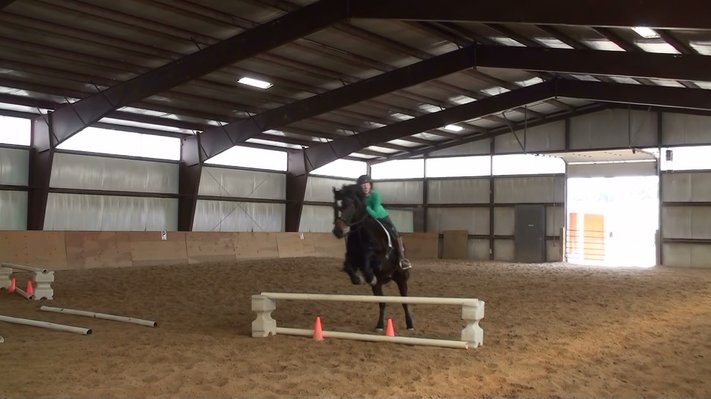 Amber Clark giving Cliff a break from schooling third level dressage by adding cross training to his routine. He LOVES it!
Welcome to ​Kingswell Connemaras!
As Always: Stud Fee Discount for ​USEF, USEA Members
​"The LORD is near to all who call on him, to all who call on him in truth." Psalm 145:18
*Smaragaid Cliff:
-- 2016 Champion Adequan/ USDF All-Breeds Connemara
​First Level Open;
-- 2016 Ranked in Top 25 Percent Overall USDF Dressage Horse of the Year First Level, Median Score 68.150
-- 2016 USEF HOTY Purebred Connemara Dressage 5th Place
​(out of 52);
​-- 2016 Awarded his SECOND ACPS Lifetime Achievement
​Gold Medallion!
-- 2016 Champion Second Level Open, RMDS Championships
​-- Third Generation Dressage Champion behind his sire, Munkholm Cobbergate, and paternal grandsire, Ardnasillagh O'Flaherty

In addition, 2016 was Cliff's first competitive show season under saddle. Thank you to USDF Gold Medalist Amber Clark of AMC Training! You can find Cliff's FAVORITE Custom Saddlery saddles here at Red Horse Saddlery. They fit!
​





​Standing the Champion German-bred
ACPS Approved Premium Connemara Stallion *Smaragaid Cliff

USEF Leading Dressage Breeding Sire, Leading Dressage Sire, Horse of the Year

Producing Balanced Dressage Gaits and the Conformation to Jump

Sired by the Danish Dressage Champion Munkholm Cobbergate
(Ardnasillagh O'Flaherty x Oxenholm Cora) out of the German Federal Premium Mare Shamrock Bright Roxanne (Power Boy X Bright Pearl)Tested HWSD N/N; Will Breed to Quality Carrier and Affected Purebred Mares
(learn why
here
)
Tested EVA negative and vaccinated annually
---
Cliff Kids In the Spotlight:
Purebred Connemaras New Song's Freedom, out of Wildwych Lucy, and New Song's Raining Miracles, out of *Sillbridge Miranda by Thunderbolt, both had a successful three-phase competitive debut at the Pendragon Stud Starter Event in September 2016. Frodo competed at Introductory Level and Mira in the Green-as-Grass section. Frodo is owned and shown by Lee Thomas. Brittany Foust owns and shows Mira as well as uses her in the Body 'n Soul therapy program.

A Few of Cliff's Kids
"But God demonstrates His own love toward us, in that while we were yet sinners, Christ died for us." Romans 5:8
KINGSWELL: Dweller at the king's spring. "But blessed is the man who trusts in the Lord, whose confidence is in him. He will be like a tree planted by the water that sends out its roots by the stream. It does not fear when heat comes; its leaves are always green. It has no worries in a year of drought and never fails to bear fruit." Jeremiah 17:7-8